Supreme accessories are a standout amongst the most essential bits of the streetwear industry. They are also best at building hype for their image by making marked items that no one would have anticipated. Throughout the years, Supreme has launched a wide selection of various bags. They have released duffle bags, waist-bags, backpacks and even suitcases. We've gathered our hottest Supreme bags of all time and put them in a simple and coherent list.
   Louis Vuitton x Supreme Christopher backpack (Red) – Fall 2017
2017 has witnessed the most iconic collaboration in the history of fashion. Supreme united with none other than Louis Vuitton to offer an exclusive collection. A standout is the leather backpack, starring a colossal box-logo down the center and Louis Vuitton's exemplary "LV" logo. The entire pack is decked out in red leather and is really stylish.
   Supreme Camo Duffle Bag – Fall/Winter 2015
It is known for its unique Camo print with black variations. It may not be the most talked about bag Supreme has ever launched but we absolutely feel that this bag from FW15 should be up there. It is very handy and practical. It is basically all you need for a weekend vacation. It features a huge area for clothes, shoes and whatever else you may need as well as multiple zip pockets to guard your valuables. Handles and shoulder straps are both included and the bag can be handled in any way you want. In case you're searching for a bag for outings, you've just discovered your champ.
   Supreme x RIMOWA Topas – SS18
Now, the iconic brand has collaborated with one of the most-loved luggage brands in the world, Rimowa. Supreme x RIMOWA is the new easiest way to never lose your luggage again with its bold red and white or black and white color. The traditional Rimowa features that we love – aluminum bodies, super smooth Multi-wheel rolling wheels are all in there. You'll have to be quick and strategic if you want to grab this suitcase. Once you obtain this bag, you can expect to be the trendiest person at the baggage claim.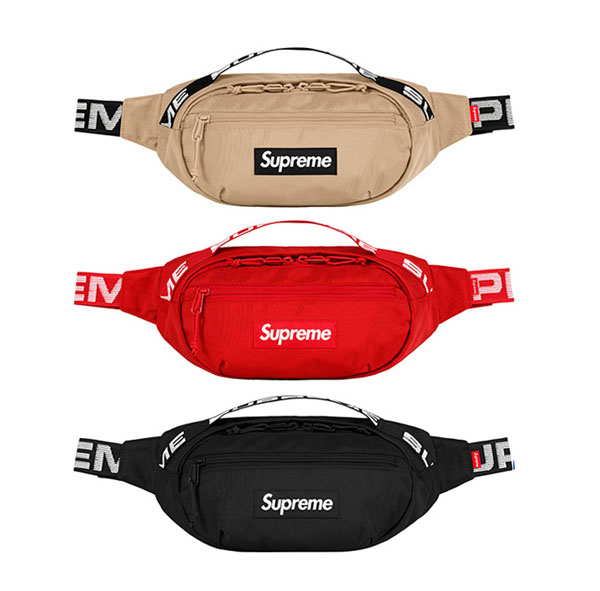 Supreme Hi-vis Waist-bag – Fall/Winter 2014
Nowadays, waist-bags, hip-bags, butt-bags (or whatever you want to call them) are extremely in fashion. They are also very practical and handy for streetwear fashion and even during out-of-town trips. What sets this "Hi-vis" edition apart is its durability. It is made of hard Cordura material and features a single stripe of reflective 3M material as well as a small box-logo. This is real value deal.
   Supreme x The North Face "By Any Means Necessary" Rucksack – FW15
Bold prints appear to be the highlight of Supreme's coordinated efforts with The North Face. Hence, this "By Any Means Necessary" print was a tremendous accomplishment upon its launch amid FW15. It was also the ideal size and adding on to its perks is its waterproof material. It was a huge success during its launch.  This rucksack "By Any Means Necessary" is unquestionably worth your money.